Employees today require a whole different palette of incentives than what they preferred about a decade ago. For most of them, monetary aspects are only equally, if not less important than non-monetary perks. The largest factor that surfaces is employee engagement- how connected do they feel to their work and their manager? How is the internal communication? How is the team coordination?
Turns out, treatment of employees is more important than previously perceived. In India, it also determines a business' reputation and brand.
We had earlier written about why corporates need to take their team on outbound trips. Most companies go for weekend training camps. Great choice, but there are other options too- trekking being one of them.
Overcoming obstacles at SYNERGITA
Even great teams need an extra push to find their way around or over a particularly challenging hurdle. The right mind-set for this can be cultivated by participating in a trek together. It helps work on performance and leadership.
Mr Shankar Krishnamoorthy, working at Synergita, writes about the insights he and his team gained from their Himalayan Trek in 2016. He writes that the preparation and the experience inculcate a sense of discipline. Because they were constantly pushed to climb the slopes in the least amount of time, there was a lot of pressure- giving them the determination to push, even when under pressure at work.
Other lessons they learnt was the importance of helping the rest of the team, planning with attention to detail, adapting to the changing environment quickly, keeping everyone engaged, and of course, collaboration and teamwork.
"Folks if you get an opportunity to go on a trek, just grab it and enjoy! You will feel the serenity and also you will go through a life-time experience."
PEPPERFRY's Trek to the Top
Ambareesh Murthy, co-founder of Pepperfry states in his article on talent development, that in the last few years, senior leaders at the company have done treks- Wari la Pass and Hampta Pass, amongst others.
"The experience on these journeys has been as much about pushing our endurance and being courageous out of our comfort zone as it has been about traveling."
He has now introduced this model as part of Pepperfry's learning and development initiatives. '#trektothetop' is a bi-monthly program, as part of which, 20 employees go on weekend or 2-day treks in the vicinity, along with their CxO.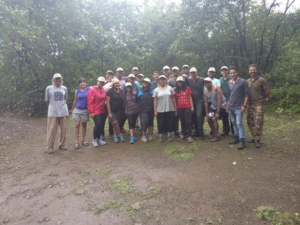 These treks have physical and mental exercises and teach employees to apply their learning to real-life situations. He says that treks are about pushing oneself to the limit, and then some more- exactly the kind of talent they want.
To Ambareesh, a trek is much like life in a startup. He writes about his well-thought of comparison in this blog post.
"I guess the fun of a trek like a startup is in the journey and not only the destination. It's in how we plan during the good times, how we face up to hardships and the friends we make along the way."
Getting to know each other
Nadia Gomes, a Database Manager, talks about her experience during her team's trek and camp trip to Goa. "I've only recently joined my company, and the team I'm part of has been working together for 3 years now. While they did make me feel welcome, there was a lot of catching up to do for me. They seemed to be able to read each other's mind at work. And I had to ask for everything to be explained."
When the outing was organized, Nadia was sceptical- spending a weekend with people you've only known for 2 weeks seems daunting. But the experience worked wonders for the group's chemistry!
"The trek itself was highly rewarding. And we were made to do everything by ourselves- right from pitching the tents to preparing the barbeque. Amidst all this, we were talking and sharing stories like we'd known each other for a decade."
When they got back to work, all the imaginary boundaries they had, had disappeared. I even openly discussed how I had been feeling. They simply let smiled, realized they might have given off that vibe, and agreed to communicate more openly with me. Getting to work was a delight after that!
If you think your team needs a shift in perspective, or a fun bonding session to reward them for all their hard work and prep them for the challenges ahead, you definitely consider organizing a trek!