Tourism industry before covid and after covid
One of the largest economic sectors in the World, the Tourism & Travel Industry is the third-largest export category in terms of global trade. Around 80% of exports have been attributed to tourism, which also contributes significantly to the national economy of both developed and developing nations.
However, after the pandemic, as per the 2020 report by the OECD, the industry is expecting a dip in international tourism by around 80%. The regions that depended on international tourism were the regions that suffered the most.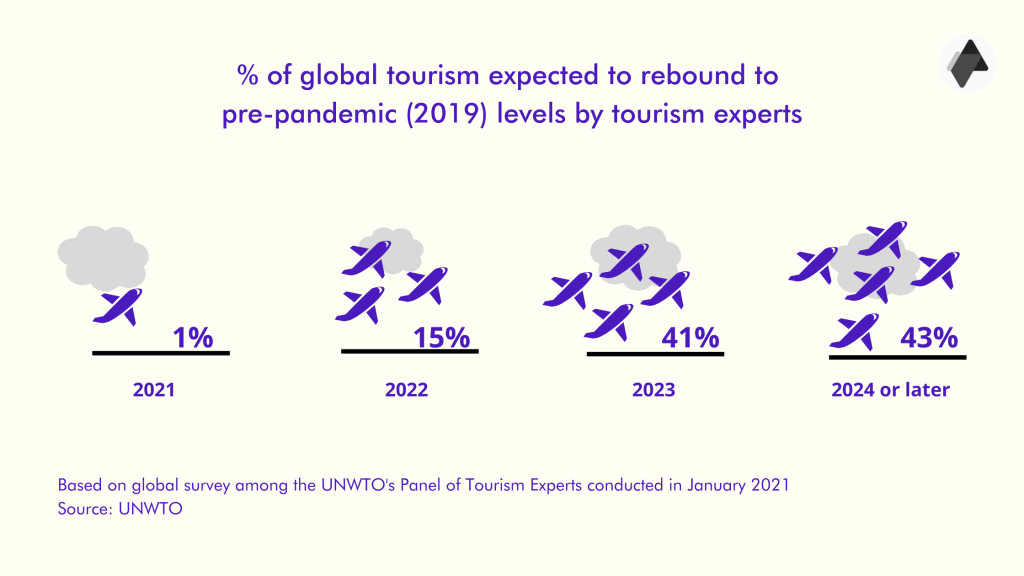 However, the drive for vaccination boosted the chances of travel industry recovery in 2021, along with initiatives taken by the government, which is acting as a cushion to absorb the impact of the major blow. Even so, the only question that was resonant was "how to promote tourism during the pandemic?"
Strategies are being developed to increase the post covid business recovery rate of the tourism sector and policies were rewritten. That includes economic stimulation, implementation of sanitary protocols, incentives to meet the demand, and promotion of direct investments in the tourism ecosystem.
Whereas, the policies gave priority to supporting the tourism industry to adapt to the new changes, boosted the confidence of the travelers, built coordination between and within countries, and lead to the promotion of safe travels, revamping the attraction. Every measure was intended to minimize the gap created since Covid 19's impact.
The Effect of COVID-19 on Tourism
Even though the modified policies and new terms regarding safe traveling post-pandemic are helping the tourism sector take control of the driving aspects of revenues, it still has to go through a rough patch until stability is obtained. According to the UNWTO report, about 54% of the women who were associated with the tourism industry had to bear job losses.
In 2020, international tourism declined by 80% and the only niche playing safe is domestic tourism, which took an impressive turnaround to restore the diminishing sector to some extent. The post-pandemic business challenges are, in fact, really huge, with the sector reeling with two pertinent questions, "how to increase tourism?" and "how to recover from pandemic burnout?"
List of Strategies to Rebuild the Tourism Business Post-COVID-19 Pandemic
The decision about rebuilding attraction and implementing a post-covid business plan is the need of the hour. It is crucial now to think and address the most pertinent questions, "how businesses will overcome the pandemic? And "How to improve the tourism industry?".
If you are also wondering the same about your tourism business, then here's a list of strategies that will help you rebuild your tourism business post-pandemic:
Leverage Online Booking Platforms
Markets and businesses have massively gone online and the potential of online businesses has largely been realized since the pandemic broke out. A majority of adults (90%) mentioned that the internet has been personally important for them during the pandemic.
The global online travel market size, which was earlier valued at $354.2 billion, when last reported in 2020, is expected to grow by a CAGR of 14.8%, and reach $1,835.6 billion by 2031.
Thus, it is time for travel and tourism businesses to leverage online booking platforms. They offer a wealth of benefits by providing a convenient and efficient way for customers to book services.
Want to try a booking system for your tour website?
Promote Domestic Tourism
United Nations World Tourism Organization (UNWTO) expects domestic tourism to get back on the road faster and stronger than international tourism. In 2019-20, domestic tourism itself accounts for 75% of the total tourism expenditure. This is an easy-to-boost segment as domestic tourism is a lot cheaper when compared to international tours. 
Since there was a paradoxical shift to the digitization of the travel industry, it became imperative to attract potential customers. Tourists are more drawn toward local places that are yet to be explored and are offbeat. Local influencers have also flocked to social media channels and accelerated the urge to travel, and there is a dire need to boost overall engagement. 
In this rebuilding process, the one component that never lost its charm is flexibility, so streamlining campaigns to promote domestic tourism can help to create an attractive ROI.
Upgrade Infrastructure
Infrastructure is a core area of the tourism industry and it is essential to developing a successful travel destination. It includes transport facilities, internet accessibility, and food & hospitality services. Also, increasing cleanliness, access to clean water, sanitation services, and promoting good hygiene behaviors such as hand washing would not only help to avoid additional coronavirus transmission but would also make people more mindful of environmental preservation. 
So consider all the above points, whenever you are adding the destination on your package tour.
Focus on Millennial Tourists
Rather than creating fashion trends in travel, it is more important to provide value-added services. 
Millennials are quite active on social media which can be used as a post covid business strategy to boost tourism. They share every detail and experience of the trip which makes it easier for the industry to convince millennials to move out of their houses and their comfort zones to travel and discover the world. 
Millennials generally look for attractive packages and deals that are going to provide a premium experience yet at a limited budget. They focus on online reviews and so it's time for the brands to take control and charge of these recommendations and reviews. 
Partner Up With Small Businesses & Grow Together
When we emphasize partnering up with small businesses, we are asking you to concentrate on the small hotels, restaurants, and other small companies in the travel business. These small businesses serve as an essential catalyst for providing the real essence of the places your clients visit. 
People usually look for the authentic flavors and vibes of a place, and small restaurants and stores are the best places for that. In the post-pandemic business continuity plan, the support of these small businesses will be critical for tourist stability and economic growth. 
Emphasize Health and Hygiene Initiatives
Health and cleanliness are two words that go hand in hand, and after this pandemic, they will remain front of mind for travelers. To gain the trust of tourists, we recommend that you adhere to all the safety norms laid out by healthcare organizations like the World Health Organization (WHO) and the Centers for Disease Control and Preservation (CDC). 
Even after the falling rate of COVID cases, health and hygiene will continue to be major concerns all over the world. Your extra efforts towards creating awareness of health will provide a chance for you to go beyond the typical implements and showcase your focus on the well-being of visitors on a larger platform to increase traveling post-pandemic.
You can highlight the quality rules and certificates and demonstrate that you follow all the guidelines issued by the local government and policymakers on hotels to show them that you care about the safety of your visitors. 
Here is an example followed by one restaurant in Kyoto to promote health and hygiene during covid!
Focus on Giving Customers a Unique Experience
Since 2019 there has been a change in the customer perspective and everybody is looking for ready-to-access services. Google recorded 336% of YOY growth in searches for "where to travel?", especially in Southeast Asia. The pandemic has been subsiding and a strong desire to travel has been generated since the restrictions and lockdown. Thus, there has been a huge demand for support and service which needs to be mitigated by the service providers, either through digital channels or by promoting an online presence. 
Customer experience is making a real difference in the tourism sector as they are getting attracted to quality services and experience and simply not buying based on perception. So, focusing on lending unique experiences to the customers is one of the prominent post-pandemic business recovery plans now.
Post-Covid 19 opportunities in the tourism Industry
There is no hesitance in traveling post-pandemic. Though the future of the travel industry is not certain yet, ecotourism and similar niche travel models will certainly play an imperative role to ensure the post covid business recovery. 
After the COVID-19 epidemic, it's as if someone pressed the world's reset button. This implies that everyone gets to start fresh, and previously unknown firms may also enter the industry. The post-Covid period has paved the way for small firms and, more significantly, has demonstrated to the world how much digitization can assist to improve their business model.
Many individuals use the internet to stay in touch with their loved ones. The tourism industry may learn from this and begin to completely digitalize and promote their company on numerous social media channels. Social media and websites reach a large number of people while providing a tailored experience to each and every consumer. As a result, tourism enterprises might take advantage of this chance to expand their operations.
Aside from digitization, there is potential for increased domestic travel. People used to go to other countries for holidays, but due to covid, different nations have set varied travel limitations. Not only that, but flight prices have risen significantly, and people have begun to prioritize their safety; as a result, people have begun to go to domestic places. Domestic travel will benefit local companies and provide new possibilities and jobs for locals. 
Areas to focus on to revive the tourism industry
Focus on the Digitization
The digital ecosystem is evolving and bringing in new opportunities for the tourism industry. It is opening up access to new markets, adopting a refurbished business model, upgrading the position of global tourism, and value chain development in new tourism products and services making it more efficient and saving time.
This paradigm-shifting technology is opening up opportunities for small businesses and helping them reap the benefits of innovation productivity and value creation. The digital trends that are being adopted and pushed to boost tourism include advanced booking engines, digital marketing, Virtual Reality (VR), Artificial Intelligence (AI) chatbots, data analytics, cloud computing, geotagging, etc. 
This has also opened new job profiles such as Smart Travel, Smart facilities, and Smart destination tour.
Improve the business analytics and forecasts
Strong business analytics is something that all businesses need to be empowered with. An able business analytics team helps the company forecast all about what's to come including major recessions and calamities that might befall them. Going in this direction would help the businesses be confident and resolute, and battle out things more efficiently in the future.
Don't have an analytics team?
No worries. The Advensure analytical dashboard can give you the In-depth Insights you need.
Address consumer anxiety effectively
The Covid-19 pandemic has been a major influence on consumers. It has badly played with their minds and changed their behavior patterns that they will hardly reverse in the times upcoming.
The best way to prevent consumer anxiety is to help your customers feel in control. You do this by providing them with information about what you're doing, why it's important, and how it will benefit them. This helps them feel confident that you have their best interest at heart and gives them confidence in your products or services.
Make the business future-proof
Here are a few actions that tours and travel businesses can adopt to prepare for the future:
Reconsider your competitive environment and be ready to enter new markets

Utilize contactless technology to bring health and wellbeing to the fore

Listen and engage with your customers to always stay in their thoughts

Utilize technology to your advantage
Automate the obvious
Digitization had a great say during the pandemic, the potential of which was finally realized during the same. Yes, it is due to digital automation that many businesses thrived during the pandemic. This is why digitizing your business and making repetitive things automatic would help greatly in the long run.
Know your KPIs and work on them
KPIs or key performance indicators are keys to success for all businesses today. These indicators not only help you understand the performance but also gain insights into where it is lacking and how it could be bettered. All these things play a major role in ensuring the future growth of travel and tourism businesses and others.
Define your foundation and strengthen it
While many businesses have witnessed slow growth during the pandemic, many others have gone off a tangent. However, you need not lament, because it's never too late to strengthen your foundation and redefine yourselves.
Chalking out "Who you are?", and writing down your Mission and Vision statements, thereby redefining your foundation, would help ensure that you are determined and embolden your sustenance in the long run, surrounded by competitors.
Know your competitors and rivals and know your market
Knowing your competitors will lead your business halfway toward success. Along with that, you also need to know the market and the present condition of the same. This will help your business stay ahead of your peers and rivals.
By understanding your competition, you can develop strategies to stay ahead of them. This can be done by monitoring their marketing efforts, keeping tabs on their pricing, and understanding their target audience.
Additionally, it is important to know your own business inside and out. This includes understanding your strengths and weaknesses, as well as your target audience. By having this self-knowledge, you can more effectively market your business and stay ahead of the competition.
Conclusion
There is no doubt that the tourism industry has been hard hit by the pandemic. However, with the development in digital technology and emerging policies traveling post-pandemic has definitely been easier. Aiming for a trajectory that is frictionless, and promoting the highest standards of quality, will certainly help rebuild tourism.
Divya is a marketer, nature lover & startup enthusiast. She has an immaculate experience in GTM strategy & SEO. She always follows her instinct and travels with her Ikigai.