After this pandemic, the main goal of every travel business is to gain revenue and increase its customer base consistently. This post will review several marketing strategies you may use to attract clients for your tour business. We hope these strategies will help you to attain your business goals. So, without further ado, let's roll and look at it!
1. Find The Right Marketplace
Marketplaces are really helpful in attracting customers. You can list and showcase your business among travelers & tourists. Since these marketplaces have enormous global reach with ready-to-purchase visitors, selling your tours & activities is much easier. Here are some of the marketplaces to list & promote your tour business.
| Marketplaces | Monthly Visits |
| --- | --- |
| Expedia | 141,736,416 |
| Trip Advisor | 390,117,571 |
| Tour Radar | 2,371,749 |
| Stride Travel | 137,399 |
| Thrillophilia | 14,923,318 |
| Get Your Guide | 2,702,285 |
| Musement | 495,207 |
| Velta City Discovery | 1,084,969 |
| Airbnb Experience | 24,928,887 |
Each marketplace works effectively for different business types. For example, Expedia works best for hotels & large travel operators, Trip Advisor works best for day tours & hotels, and Thrillophilia is best for adventure & small tour operators. So before listing your business, check out which OTA (Online Travel Aggregators) suits your business well.
2. Create An Engaging Website
A website is an online store for your business. Your website will be the first point of contact for your customers. Developing a user-friendly, engaging website will attract more clients and provide a fulfilling experience for them. 
Your website should ensure that your customers can locate all the information they need, such as packages, travel arrangements, dates, activities, etc. You should keep your website up to date and streamline the online booking process. 
Want to Create Your Tour Website in Minutes?
3. Make Your Website SEO-Friendly
What if you look up your website's name on Google and can't find it? After you've created your website, you'll need to put in extra effort to make it noticeable. SEO (Search Engine Optimization) can assist you with this. 
There will be thousands of tour businesses on the internet, but people will choose only the ones displayed on the front page of search results as their websites are well-optimized. Ensure your website is SEO optimized if you want it to appear on the browser's front page. 
Here are the helpful articles to start SEO for your website:
The higher your website's rank, the more you get clients. To ensure that your site is SEO optimized, you can hire an SEO specialist to assist you in making your website SEO friendly. If not, you can leverage the Advensure website builder, which helps to build not only a website but an SEO-friendly website.
Don't you have enough time to read the entire post? Check out our Infographic below to learn how to attract more customers for your tour business.
4. Start Your Blog
Once your website has been optimized, you can add a blog section. Blogs are the most effective technique to increase customer retention. 
Blogging is an excellent approach to establishing relationships with your customers. If you write your blog in the style of episodes or a tale, a consumer may get addicted to it. 
You can write blogs on the destinations in your trip packages, landmarks, must-see attractions, monuments, and activities you should try. Blogs can assist in keeping your customers interested in your website and its content. 
You can also develop content based on your customers' reviews to inform new customers about the most popular locations.
Remember that once you start uploading blogs, you must be consistent and maintain the same level of creativity each time.
Here is an example:
Swiss Activities – A leisure activity provider in Switzerland generates nearly 0.1 million traffic from their blogs.
5. Create Mailing List
Sending an email is a great way of generating leads. You can ask visitors to your website to sign up for newsletters or blog postings whenever they visit. This way, you can create a mailing list. 
The people on your mailing list can be your potential customers. You can begin by sending them offers during festive seasons, details about new packages, discounts, or coupon codes on birthdays and special days. 
The key objective of sending emails is to strengthen relationships with your consumers. If you have solid relationships with your leads, you will be the first person they think of when they plan a vacation. 
Make an effort to keep your emails brief and to the point. You can spice it up with fun components or write remarks to please the recipient. Remember that a happy customer is a returning customer. So make the most of these emails.
6. Connect With Your Audience Via Social Media
Did you know 74% people use social media when they travel? Social media is a very powerful tool in today's era. You can find travelers of all age groups in one place on social media.
Your website should be a complement to your social media platforms and not the only way to get your message out there. A strong social media presence is an important element of any modern-day business.
Social media platforms such as Instagram and Facebook have become a one-stop destination not only for businesses but also for many individuals with limited or zero marketing budgets.
You can utilize the story and reel features to create short videos and distribute content about your customers' tour experiences. You can also make and share relatable memes and phrases on your social media profiles.
Never underestimate the power of hashtags, either. You can start your hashtag trend and invite others to join you by posting their experience on their profiles, exposing your business to a bigger audience.
💡Pro Tip – Check out this article to learn how tour brands leverage social media.
7. Collaborate With Influencers
Influencers and celebrities inspire people to undertake things they would never have considered otherwise. Many businesses you may have seen collaborate with well-known celebrities and internet sensations for their marketing campaigns. These influencers have millions of followers, and when they advertise your content on their profile, those people will visit your website directly. 
These influencers will help to increase your online visibility, ensuring commercial success. As these influencers already have a long time bond with their followers, promoting your business will help increase your customer base on a large scale.
💡Pro Tip– Check out this article to find travel influencers on the internet.
8. Run Digital Ads on Multiple Platforms
Digital advertisements are a proven method. You can place your adverts on numerous platforms, including Facebook, Instagram, Google, Pinterest, and more. Though this method is rather costly, it is very effective (Only If done the right way). 
When your target audience sees your ad and clicks on it, they will be directed to your website, and since you must already have an excellent website, this will enhance your chances of gaining more customers.
These digital advertisements are simple to create and implement. If you want to enhance the frequency of your advertisements or show them on a larger scale, you can employ an expert to produce custom advertisements for you.
Here is an example of G Adventures's digital ad on Facebook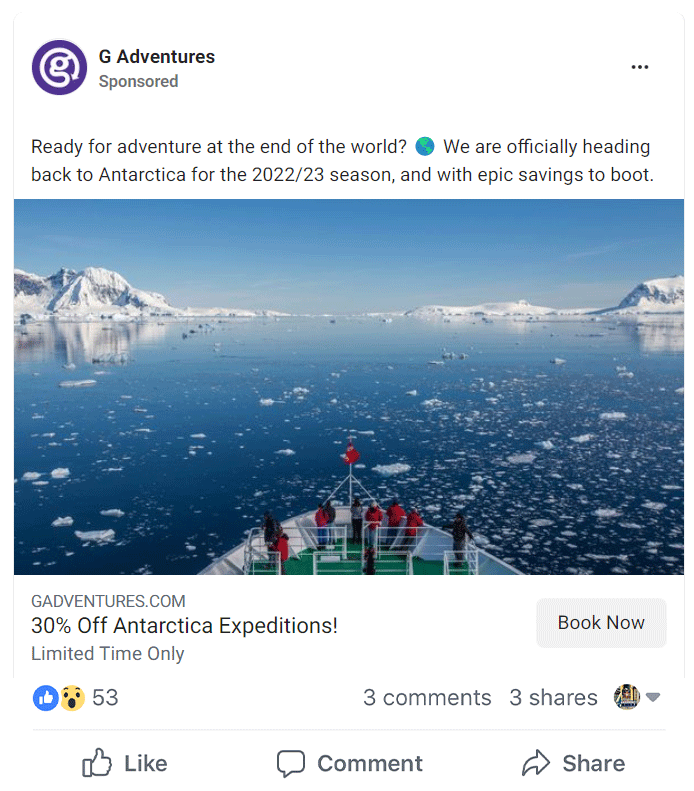 9. Improve Your Trip Packages
There are numerous travel-related businesses. To boost your chances of becoming the best in the market, look at your competitors' prices and build a distinct and more enticing package than others.
You may lower your costs, add a few more locations, offer freebies, or deliver a one-of-a-kind experience to your customers by going the extra mile.
You can provide discounts such as group discounts or price bundling discounts. People love discounts, and when you combine them with traveling, you have already taken the first step towards flourishing your business.
10. Offer Freebies
Who doesn't appreciate freebies? You can organize an online giveaway on social media or other platforms and invite people to join by tagging their friends and sharing a story about your contest.
You could also make promotional videos about giveaways and share them with other agencies to disseminate them across various channels.
The free items should be beneficial to your business. Look for low-cost items such as bag tags, travel needs, luggage bags, duffel bags, camping gear, jackets, and so on.
Creating custom-made gifts can also be very beneficial for you as this helps you give more visibility to potential customers. Finally, if you want to go above and beyond, you can have a lucky winner contest and award a free trip to a lovely destination.
points. This way, the customers will be happy because of the discount, and you will be happy as your business is flourishing.
Here is an example of a referral campaign; you can customize and create your unique offers to attract people and create a broad customer base for your tour business.
11. Launch a Referral Campaign
Many airlines and travel agencies have gained success, all thanks to the game of referrals. You can also reward your consumers for referring you to their friends and family.
You can set up the referral bonus and offer them a discount on collecting referral points. This way, the customers will be happy because of the discount, and you will be happy as your business is flourishing.
Here is an example of a referral campaign; you can customize and create your unique offers to attract people and create a broad customer base for your tour business.
12. Attend Conferences
Attending conferences in your niche has more advantages than you would imagine. Potential partners and prominent individuals attend conferences in large numbers. You can expand your network and advertise or collaborate with others for your business.
Networking with other successful business owners through these conferences provides you with several opportunities to grow, gain expertise, learn, and better your firm.
Find the list of upcoming travel conferences here.
Conclusion
In the cutthroat travel sector, running a tour business is a difficult endeavor. While many people profit from being completely well-known and respected in their field, they face some challenges as well. To find the best ways to draw local clients to your tour business, try incorporating these strategies into your marketing plan.
These were some strategies we've discovered working well for most businesses, but if you have any others in mind feel free to share them with us!
Need Help To Grow Your Business?
Get a Free-Consultation with one of our experts. No commitments, only friendships
Divya is a marketer, nature lover & startup enthusiast. She has an immaculate experience in GTM strategy & SEO. She always follows her instinct and travels with her Ikigai.