Kerala is a paradise in every sense of the word. But beneath all that serene exterior, there is quite a thriving Kerala adventure circuit.
Kerala is awesome to visit this time of the year- The weather is quite chilly and in most places, you won't even need to switch on the fan. Looking to ditch the 'touristy places' and explore Kerala a different way? Here are some options you definitely want to check out:
Kayaking, Alleppey
If you're having a chat about Kerala, and someone doesn't mention 'backwaters', is it even a legit chat about Kerala?
The best way to explore Kerala's backwaters is to set foot into a kayak and float away! Kayaking draws in a lot of tourists, particularly in Alleppey. It's kind of a strange, palatable contrast- You're moving through the serene environment in an adventure-packed way.
Checkout how kayaking originated
You'll have so many opportunities to 'stray away' because Kerala has innumerable lakes and canals. This kayaking tour lasts about 3 hours. It begins at Pallathurthy, a place near Alleppey, which is best known for its backwaters and houseboat cruises.
You can interact closely with the locals living in the area and observe their daily lives. As you move along the waters, you truly understand why this place is a huge tourist attraction.
Trekking, Idukki
You need some outlet to burn off those calories from all that Sadhya food. Seriously, have you seen those guys heap mounts of rice on your leaf? They never stop!
During this trek, you will cover 2 locations- Chokramudi and Phantom Head. The Chokramudi Peak lies in a secluded spot and is amongst the least explored hills of Idukki. You can't really find much on the internet about this place. So, guess what? No tourists! Not too many, anyway! The climb here is physically and mentally tiring-so you'll have no room for boredom.
On the Phantom Head trail, you'll find a skull-shaped rock lying over a small boulder, hence the name. You can see a stunning view of Idukki from the very top. There is the Anaerangal Lake on one side and the Meesapulimala, the Western Ghat's second-highest peak, on the other.
Cycling + Kayaking Tour, Alleppey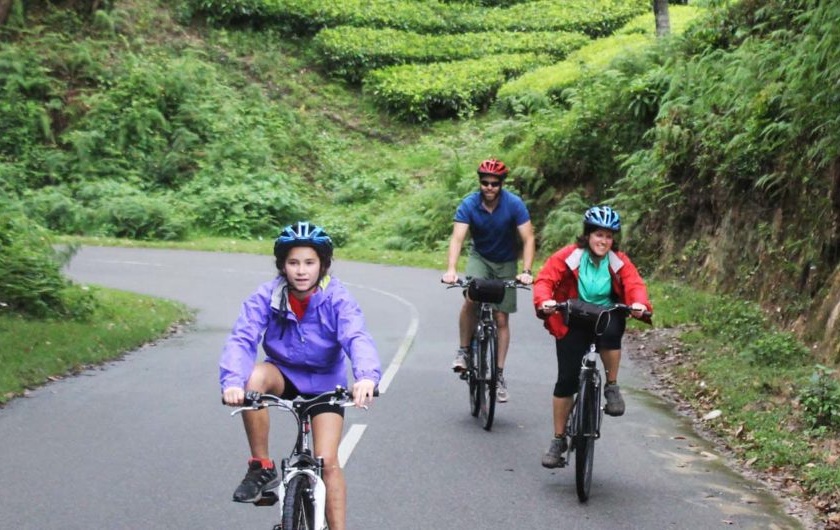 Holy Mother of Adventure! A mega experience- Cycling and Kayaking, all rolled into one!
This tour lasts about 8- hours and goes through Alleppy or Allapuzha. The city is famous for its luxury rice barges, and Coir (coconut fibre) factory units. Not to forget the backwater tours. Alappuzha beach has the 19th century Alappuzha Lighthouse. The city also has some ornately planned snake boat races at Punnamada.
The first half of the day, you will be cycling on the route south of Kochi, through the rustic country. Stop on the way to chat with fisherfolk and observe their simple lifestyle. You then break for lunch at a desolate beach with some wholesome Keralite food. After lunch, hop into the kayaks and explore places that houseboats can't crawl into!
Discover Scuba Diving in Kochi
Didn't we say that this place is full of surprises! Kerala is not particularly famous for its Scuba Diving courses- which is why you should take it.
If you want to try scuba diving, but aren't quite ready to take the plunge into a certification course, DSD is for you. It's not a scuba certification course, but is a quick and easy introduction to what it takes to explore the underwater world. Also, if you do decide to pursue the sport further, which, we're sure you will, it's an advantage. Because DSD skills can be credited towards the PADI Scuba Diver and Open Water Course.
It's only an introductory course and you don't even have to know swimming. Photos and videos are part of the package, so you can keep your Social Media profiles trendy!
Parambikulam Tiger Reserve Camping, Palakkad
This the season for those wild, wild safaris! The Parambikulam Tiger Reserve is highly protected. It has sanctuaries of Kerala and Tamil Nadu all around it. Also, very few humans out here. That definitely means something good- its flora and fauna are in the pink of health, Smithers!
Valparai is a mid-elevation hill station with tea plantations surrounded by evergreen forests. As you drive to the town, you pass a sanctuary famous for its population of leopards, elephants, boars, lion-tailed macaques, gaur, spotted deer, sambar, and Giant Squirrels.
The area is rich in birds, including the Great Hornbill. The Valparai range is also the habitat of the Nilgiri Tahr, an endemic wild goat, largely found in altitudes between 1200 m to 2600 m in the southern Western Ghats.
Before you go, read this friendly guide to taking care of the environment when you travel.
As we said, the Kerala adventure tourism industry is going strong. It's an interesting mix because you can visit places that are tourist attractions yet avoid the monotonous crowd.
Other posts that might interest you:
SUBSCRIBE to our blog for other such adventure and travel suggestions and hacks!