Arguably one of the leading trends in the travel sector today is the concept of "Experiential Travel" which is an idea of a more immersive, adventurous and authentic experience, mass tourism, tourist attractions and manufactured entertainment is no longer sufficient. Millennials crave a different kind of experience, one where they can get away from the flock of tourists and experience the true culture of the place. This 'When in Rome' attitude takes them onto the paths less traveled by tourist. From crowded flea marketplaces and deserted beaches to quiet mountains and hidden waterfalls each experience a new discovery creating a lasting impact on them.

Twisting Trends
Travelers want to have more fulfilling experiences as opposed to the earlier trend of resort vacations imprisoned within the four walls of a luxury hotel.Travelers these days are at looking interactive travel experiences that will afford them the luxury of communicating with the locals and visiting places off the usual tourist maps." As a young child, my family's idea of an adventure was hopping into our van, heading out on a 9-hour road trip to Goa and spending a few nights at our holiday home. That is not the case today, the first thing that comes to my mind when you say the word adventure is skydiving, scuba diving or white water rafting, a road trip comes nowhere close to my top 10. The era of mothballed vacations are slowly coming to an end." says adventure and wildlife enthusiast Chiarra Fernandes.

Now or Never
Travelling has always thought to be an expensive affair. People would often work and save up money so that they could travel sometime in the distant future. An increase in spending power and a 'Carpe Diem' attitude among millennials has led to a rapid change in this trend."With a number of budget airlines springing up to meet the demands of travelers I find it makes more sense to travel now instead of saving up for travel in an uncertain future" says Namrata Bangera.
Work Experience?
Low on cash but the wanderlust in you calls out for adventure outside of your office cubicle? Ditch the ye olde timey packaged tours and plan one yourself. If you want to travel to places 'you' would like to experience head out with a backpackers mentality. Many millennials like Erica D'souza work at places while they travel, not for the money but for the experience. "I work at a digital marketing firm in Mumbai. Late nights and tight deadlines have been a part of my life since I got the job and it takes a toll when I go traveling I like to volunteer at local schools, It's my small way to give back to the community and gives me so much joy. There are also many hotels which are short staffed that let you stay there in exchange for waiting tables and helping out.It's not a glamorous job but it's an experience you will never forget". Freelancing as travel blog writers, volunteering at wildlife reserves and orphanages are a good way of making the most of your travel experiences.
Social Media
Social media has been a major influencer in getting more people to leave their brightly lit computer screens and visit the great outdoors. The growth in tech culture has served as a source of inspiration to many. Just turn to your phone and you will be bombarded with pictures or posts of travelers uploading pictures of scenic beauty in distant lands and we make a mental note to add that place to our bucket list. This social media envy is also more famously known as the "Instagram effect". The growth of social media has also helped create a global platform to gain more information and find things that aren't on your travel brochure.
Celebrity Travellers and FOOD
What's the first thing you think of when you think "Italy"? The leaning tower of Pisa?The iconic Roman Colosseum? My first thought when I think of any place is the food, Italy brings to mind a land of pasta, piazza, gelato, and wine. I remember surfing the net and watching a video of Anthony Bourdain sampling fresh homemade pasta in a tiny cottage in Tuscany, and ever since that day I've longed to go to Italy and learn to make pasta myself. Celebrity travelers and travel bloggers give you a glimpse into the lives of the locals and a few hidden gems to visit enroute.
Travel isn't all about the destination. It's about the journey, the people you meet, the culture you absorb and lessons you learn along the way.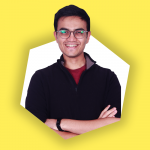 He dons many hats. Professionally committing towards marketing, operations, product management, and business strategy skills while also being a hands-on scuba diving instructor. He approaches each problem with a leveled mind of an optimist. His taste in music and food is very specific and he enjoys a healthy work-life balance.