What's the first thing that comes to mind when you hear the word 'camping'? To most people, it's sitting around a bonfire telling each other scary stories while roasting smores as someone strums his guitar in the corner. The perfect night. Camping, while fun, does need some amount of preparation before you head out into the woods. Here's our take on the things you need to do before, during and after your camp.
Are we there yet?
Camping can be fun but it's always better to plan ahead. Plan out your trip, how are you going to reach the campsite? Do you need to walk? Is there any place to park your vehicle? Read up about the place that you intend on setting up camp. It will help give you an idea of what to expect and how you should pack. Gather information such as other activities you can do or places you can visit near the campsite. Make sure you reach your campsite before sunset when there is a lot of natural light which will make it easier to set up a tent. Always carry a map and mark a route that you can refer to in case of an emergency.
Hint: Adventure blogs are the best place to source some amazing camping hacks from.
Pack Smart
Carry all your equipment in a durable and waterproof bag. It's important to look at the bag you plan on carrying too. Too big and it'll just be extra weight to lug around, too small and all your things may not fit. Choose the wrong material and you run the risk of all of your belongings getting wet in the rain. Make a checklist of things you need to carry such as a flashlight, emergency matches, sleeping bags, tent, food, sunblock, extra set of clothes, water etc. Don't pack too much since you may need to trek a little before you reach and set up camp.
Hint: If you don't find a good waterproof backpack, line your backpack with an empty plastic bag before you begin packing.
Dress to kill
While light coloured woollen clothes are the best option to stay cool during the summers, it's more of an inconvenience in the woods as the wool sticks to twigs and will snag in bushes. Better alternatives to woollen clothes are moisture soaking thin fabrics that will dry out quickly. Don't forget to carry a raincoat, sun cap and good shoes for your trek.
Hint: The fashion police have no jurisdiction in the woods, so aim for comfy rather than trendy.
Survival of the fittest
You have to be prepared out there in the wilderness. There are a number of plants such as poison ivy and thorn bushes that can play party pooper to your camping expedition. Carry a small but well-stocked first-aid kit with antiseptic wipes, crepe bandages and creams to treat cuts, bruises and avoid infections. It's easy to get lost and lose your way back to base camp while exploring the woods. Carry a handy pocket-sized survival kit which will help you signal for help and survive the night.
Hint: A survival paracord bracelet and a multi-purpose tool are good investments for a camping trip. Paracord has a number of different uses and is very durable.
Food for thought
Carry a mix of fresh fruit and berries as a delicious and refreshing snack. It's important to pack high energy snacks. Granola bars and, tinned food make for excellent camping food because they are easy to store and carry around. Carry your food in airtight containers or ziplock bags to avoid attracting any uninvited wildlife to your tent. The most popular snack that everyone associates with outdoor camping is roasted marshmallow over a bonfire.
Always carry enough water for your trip to avoid dehydration. A good way to ensure you have enough water is by adding fresh pieces of fruit to your water that adds flavour to it, or by adding energy drink powders to it.
Hint: Always pack your food and water last so it remains at the top of the bag and you don't spend the whole trip till the campsite digging through your bag
That's the spot
Search for a good place to pitch your tent. Survey your surroundings for any hints of wildlife nearby. Choose a quiet secluded but open place to set up camp. Learn how to pitch a tent before you head out on your camping trip. Look for level ground while setting up camp. Many campsites have selected areas where you can camp, call up ahead and reserve a section to avoid any last minute confusions.
Hint: Always pitch your tent away from bushes, don't camp too close to streams because the water levels keep fluctuating.
Time to leave
Leave the campsite the way you found it. Pick up any waste paper or plastics that may be left around, take all the trash with you. Go through your checklist to ensure that you don't leave anything behind. Make sure you put out your fire to avoid causing forest fires.
Hint: Use water wet leaves and cover the pit with sand to make sure the fire has been completely extinguished.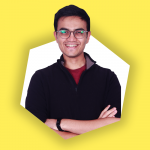 He dons many hats. Professionally committing towards marketing, operations, product management, and business strategy skills while also being a hands-on scuba diving instructor. He approaches each problem with a leveled mind of an optimist. His taste in music and food is very specific and he enjoys a healthy work-life balance.