The Guinness book is the storehouse of some insane world records. Some are super impressive, and some are downright strange- longest fingernails on a human, while some are hilarious- Largest gathering of people wearing mismatched socks!
Adventure sports, often known as 'Extreme sports' takes participants to the brink of their limits. Adrenaline can be addictive and some adventurers cannot stop after an 'average attempt'
Check out these 10 thrill seekers who took it way beyond the 'e' in 'extreme', and smashed some unbelievable adventure world records.
Freediving under ice
Stig Åvall Severinsen of Denmark is a four time World Champion freediver, who is already in the record books for having completed the 'Longest Breathhold Swim under Ice'. But this feat was clearly not enough for the champion, and he made an attempt wearing only a pair of swimming trunks.
He set the record in April 2013 in Greenland, and swam to 76.2 m or 250 ft, under an ice cover that was 100 cm deep.
His achievement has given scientists quite a lot of questions to solve about the capabilities of the human body!
The oldest person to climb Everest
Think you're too old to try something adventurous? Think again- Japan's Yuichiro Miura reached the 8848 m summit in May 2013, at 81!.
Also, this was his third world record. He had been the oldest person to complete this feat, both in 2003 and in 2008.
Maybe it's time to shun those fears?
High altitude Cycling
Gil Bretschneider and Peer Schepanski, both from Germany, smashed the world record for the 'Highest altitude cycled at'.
The expedition was carried out on the slopes of Muztagata peak in China.They started the 17-day challenge at height of 5,350 m, and ended up at 7,211 m.
Freefall Parachute Jump
In October 2012, skydiver and BASE jumper Felix Baumgartner of Austria attempted a freefall parachute jump from a height of 38,969.4m. The task saw him jump off a hot air balloon while in the stratosphere- the second layer in the Earth's atmosphere.
He literally was at the edge of space and during this jump, also broke the record for 'Highest manned balloon flight', the 'Fastest speed in freefall' and 'First human to break the sound barrier'.
Eight million people tuned into Youtube to watch Felix's jump, thus also setting the record for 'Most concurrent views for a live event on YouTube'.
Surfing Large Waves
Surfing is super fun and almost therapeutic for many. But it takes quite a lot of practice to tame those gigantic monster waves.
It's not really a problem for USA's Garrett McNamara, who surfed a 78 feet (23.77m) wave. This set the world record for the 'Highest Wave Surfed', and was completed off the coast of Praia do Norte in Portugal in November 2011.
Slacklining
When it comes to thinking of adventure world records, this one must not be left out! A relatively new sport, slacklining requires not just physical strength, but also extreme levels of focus and balance. France's Lucas Milliard completed the 'Fastest 100 m slackline walk' in June 2016 in China.
The feat took him just under 2 minutes and the slackline was at a distance of 70 m above the ground.
Rafting solo
Adventure sports has got a lot to do with mental strength, and having at least one companion is always helpful.
But Poon Lim of the UK Merchant Navy did not have this luxury as his vessel was torpedoed in November 1942 in the Atlantic. He survived for 133 days alone at sea, before being picked up by a fishing boat in April 1943.
Have you read about this other incredible solo expedition at sea?
Road trips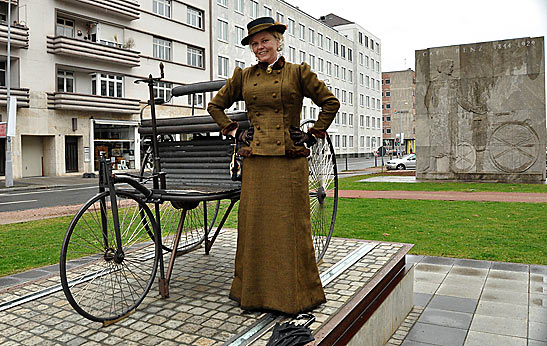 The next time you're thinking 'women can't drive', think of this- the first 'official' road trip was by Germany's Bertha Benz, wife of Karl Benz, the founder of Mercedes Benz.
She told her husband that she was going on a trip to visit her mother. But she was actually on a road trip, with her two teenage children, to promote the 3rd experimental Benz motor car.
The journey in 1888 saw her driving a distance of 106 km, earning her a rightful place in the books of adventure world records.
Kayaking
Carter Johnson of USA went canoeing down the Yukon River in Canada in June 2011 and covered a distance of 450 km. He thus broke the record for the 'Farthest distance canoed/kayaked in under 24 hours'. He had a support team that followed him during the journey.
Kayaking non-stop for 24 hours? THose arms must be hurting!
Climbing with no vision
This probably the most commendable feat so far. Erik Weihenmaye of USA was suffering from Retinoschisis, and was completely blind by the time he was 13.
This did nothing to stop him, and in May 2001, he climbed to the summit of Everest and is the only blind person to have achieved this so far. In 2002, the accomplished skier, rock climber and paragliding pilot also completed the Seven Summits expedition– the highest peak of each continent.
Speaking of adventure world records, have you read about this amazing female adventurer who climbed the Everest in spite of having lost a limb?
Have these amazing adventure world records left you feeling inspired? Maybe it's time to step out of your own comfort zones!