What are your reasons for not taking that trip you've been looking forward to the entire year? Waiting to turn 40 and retire early? Your schedule's always too tight? You're looking for a celebratory occasion? Waiting for the right companions? Maybe next month? Next year?

Meet Ashok Karkera, who needs to be given a pretty strong reason to not travel, and even then, he might not really buy it. He took a trip to Udaipur with a walking stick for support, which he had to because of a protein spike he suffered during his previous vacation to Kerala!
The man even took a bike ride on literally one leg, after having met with a huge accident and ligament tear only about 5 days earlier. He says he has a 'khujli', an itch, for adventure. When he rides solo, he doesn't even bother pitching a tent, and in fact, often ends up sleeping on his bike. He's spent nights at petrol pumps, police stations, and even ATMS, which he claims are extremely comfortable because of the AC.
I had the pleasure of having a chat with him, amidst the noisy banter of an office on a Monday morning (he works in the HR department at Tata Capital, if you were wondering). His desk is strewn with badges with inspirational one-liners, such as "2>4" and his helmet, with travel-spirational stickers.  Here are some of our favourite quotes from the interview.
On how his love for adventure began…
At this point, he corrects me saying it is his love for travel that has led to his love for adventure. Travelling into uncharted territory and experiencing the culture is what he considers as adventurous. Going with an itinerary is something he has not done in a while, he visits the place and creates and alters his itinerary during the journey, in consultation with the locals. When he visits a place, he tries his hand at as many adventure activities as possible; they're an extension of his travelling escapades.

He discovered his love for travel and adventure when he was in the sixth grade. He lived in Vishakhapatnam, and getting a driving license was literally child's play. Starting off with a Luna, which he describes as a bicycle with a motor. His bikes all have names, by the way. His sister happened to leave her Kinetic Honda home for a couple of days, and on one such day, while there was no one at home, he decided to take his first bike ride – from Vishakhapatnam to Vijaynagar, which is about 60 kms one way. This was a huge deal for a child of his age, living in a South-Indian conservative family, but since then, there's been no looking back.
Combining food and adventure…
As far as food is concerned, 'go local' is the motto. In 2006, he had coined a word – "Clixplorer", symbolizing people who love 3 things- click, lick and explore – travel, photography, and food. He says hotels don't have much to offer in terms of gastronomical experiences, it's the street food that defines the cuisine. Topping the list of his must- try regional food is the Davangere loni dosa, a type of dosa in Kolhapur, in which the amount of butter used is, hold your breath, as much as the batter itself. He was challenged to finishing 2 of these (a huge feat in itself), and he ended up eating 6 – no regrets!
Kolhapur, as such, is food-lovers paradise according to him, and this is where he woke up this New Year, at a serene campsite overlooking a valley with seven hills in one single view. His group had to take special permission from the forest department for this one. There had even been a panther scare in the middle of the night, at which point, everyone was ushered into their tents.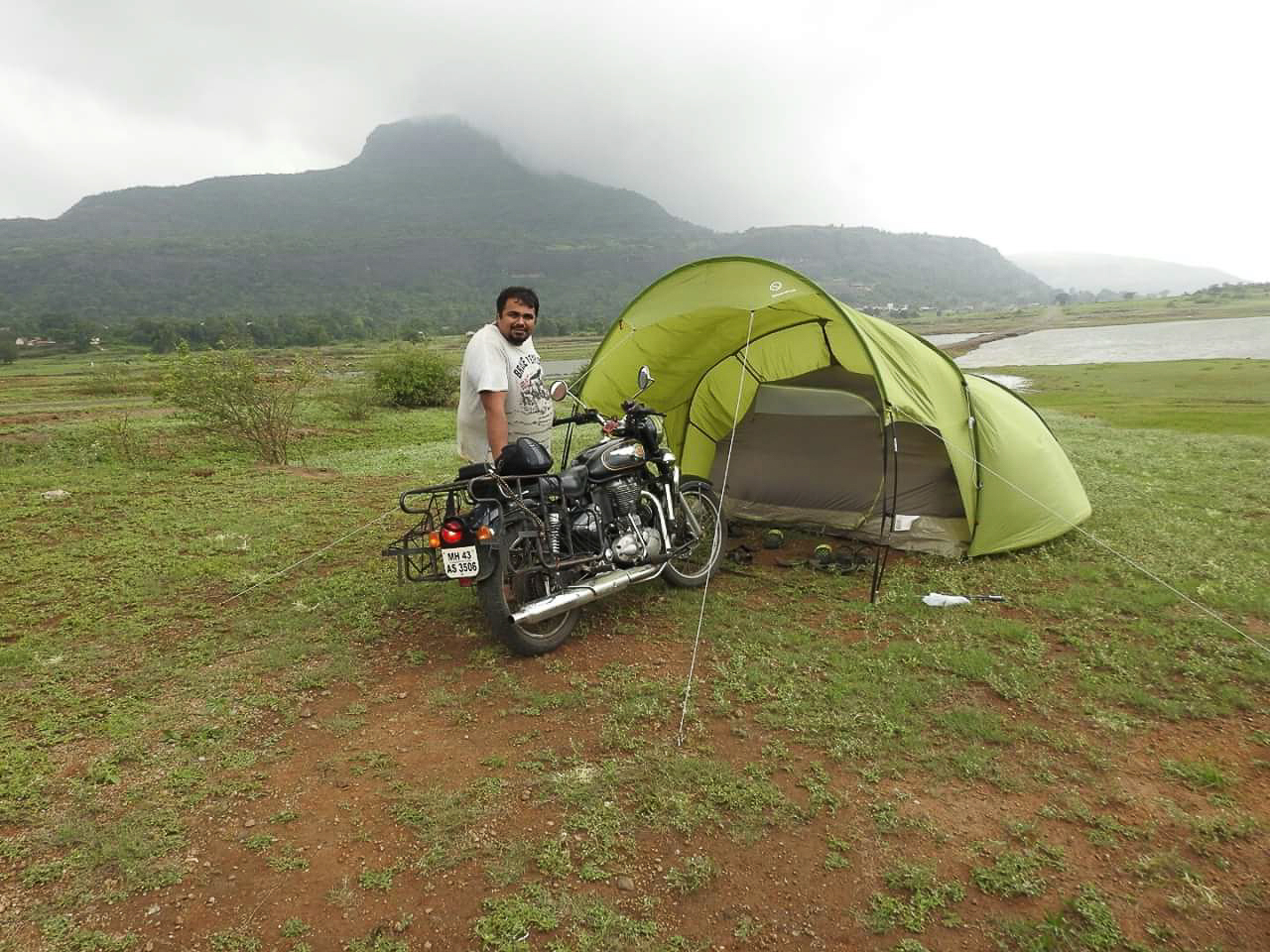 Some of the most memorable experiences…
One that he recalls is his ride from Bombay to Goa, which is pretty regular for him, he took the entire coastal stretch, which changes the distance from 700 km to approximately 1000. He and his pillion had started out at about 6:00 am on the first day, and ahead of a village called Mandangaon, they happened to find a bike on the cliff side, completely damaged. After further investigation, they found the rider, at the bottom of the valley, injured, but alive. They managed to rescue him, he was highly inebriated and turned out to be a local bus driver. By this time, it was 2:00 am, they had had nothing to eat and decided to sleep at an abandoned bus stop. In the morning, Ashok was actually awoken by a stick poking him. Once up, he saw a bunch of screaming kids running away from him. His pillion later confessed to convincing the kids that he was dead; he suddenly waking up had scared the living daylights out of them!

Some of his other memorable experiences include Jumarring and Rappelling in the Blue Mountains in Sydney, where he also tried Surfboarding on Bondi Beach and Cliff Rappelling at Kudumba, Snorkelling in Mauritius, Scuba Diving in Tarkarli, fishing in the Himalayas, and this is just the tip of the iceberg! While each tour has its own highlights and most of his trips are solo, he believes it is the people that are, or become, part of his journey, that make the experience memorable.
A must discover place…
This, according to him, has to be Poonthota, in Kerala. It is not really on most people's itinerary. In fact, the Google search he did right then threw up absolutely no results. At this point, he showed me pictures of freshly harvested Toddy, which he had managed to lay his hands on. He says this place will definitely give you some of your best memories. At Poonthota, while fishing for shellfish, they came across a part, right in the middle of the backwaters, which was shallow enough for them to get off and lie down, while just a few feet away, the depth suddenly increased to above 100 feet! Interestingly, this is the trip, during which he consumed a lot of protein rich food, which put him in a walking stick! His advice is, if you're planning to visit Cochin, forget your 'list', and visit Poonthota first.
What lies ahead…
Ashok plans his trips the moment he gets the calendar with the official list of holidays from his company. On his next adventure, he aims to save some major bucks by taking a 14 day tour in under 5000 bucks. How? By negotiating, borrowing and even begging his way into reasonable decent sleeping and eating joints. Seems pretty impossible, but he has already begun practice – he survived a month he calls 'Frugal February', during which, he spent only Rs.100 per day, including food and travel.
He is currently working on a project called UnStay, aimed at sustainable travel through afforestation. He thought of it in 2015, when, while flying over Maharashtra, he saw the parched state of the land. The plan involves planting trees whose roots dig really deep into the soil, gradually pulling up the water table. "The problems of Drinking Water shortage are usually unheard of in Kerala, and the main reason for this is their focus on green cover. Satellite images from the 80's and 90's show Maharashtra being completely green, which is the state we aim to get it back to."
He plans to do a Vietnam and Cambodia bike ride next year, and a Thailand ride he calls 1193, symbolizing the 1193 hairpin bends they will pass, the maximum for any route. He also plans to do the Mongol rally in which, one starts in London, rides through a minimum of 14 countries, in about 45 days, and ends the trip in Mongolia.
This man has made sure he takes his pill, that is, his travel breaks, irrespective of whether his schedule looks blocked, or whether he has One Lakh rupees or One Hundred Rupees in his account. His parents have given up trying to make him stay inside the house- he does keep them informed about his whereabouts at all times though. He says the world has a lot to offer apart from the big cities and their bigger buildings. He urges the rest of us to simply take that vacation we've been delaying forever. "Just go dude, you can thank me later!"